The MK100 can be opened by the user. This does not void the warranty, however, any damage caused by doing so will not be covered.
The following steps will walk you through opening your MK100 case, as well as auto-powering on and clearing CMOS.
Find your MK100 unit or model name on the right panel, and click on it to see the instruction set for it.
Opening the MK100 Case
The MK100 case is very simple to open. Remove the two screws from the sides and slide the lid off towards the rear.

Model Specific Troubleshooting
These flexible cases can accommodate a number of different motherboards. If you need to enable auto power on or clear the CMOS, locate your model on the right side and follow the instructions listed.
MK100B-50
ASRock IMB-181 Motherboard
How to Enable Auto Power On
Locate the AT/ATX jumper
Move it over by 1 pin
Auto power on is now enabled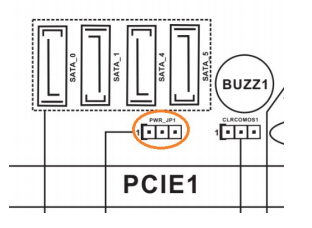 Troubleshooting
How to Clear CMOS
Locate the CLRMOS1 jumper
Move the jumper over by 1 pin
Wait 30 seconds
Restore the jumper to its original position
The CMOS is now clear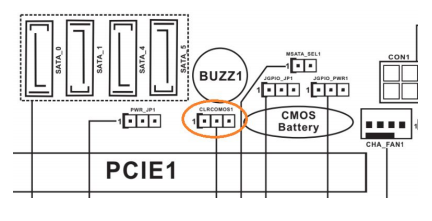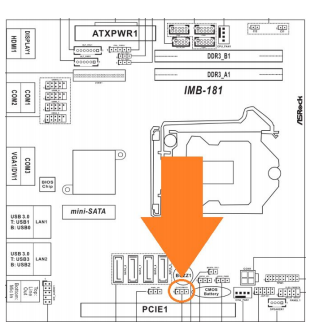 MK100B-51
ASRock IMB-195 Motherboard
How to Enable Auto Power On
Locate the AT/ATX jumper
Move it over by 1 pin
Auto power on is now enabled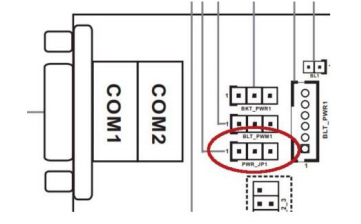 Troubleshooting
How to Clear CMOS
Locate the CLRMOS1 jumper
Move the jumper over by 1 pin
Wait 30 seconds
Restore the jumper to its original position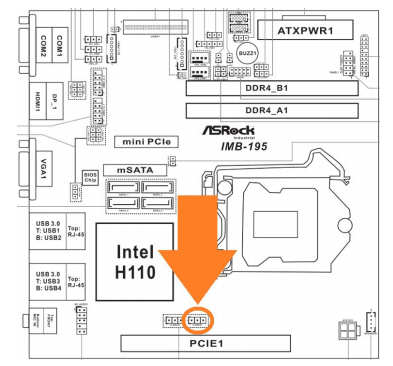 MK100B-53
ASRock IMB-1210 Motherboard
How to Enable Auto Power On
Take the jumper circled in blue and move it to the pins circled in orange
The unit is now configured for auto power on

Troubleshooting
How to Clear CMOS
Locate the clear CMOS jumper
Move the jumper over by 1 pin
Wait 30 seconds
Restore the jumper to its original position
The CMOS is now clear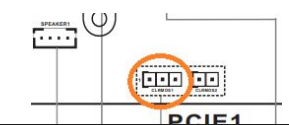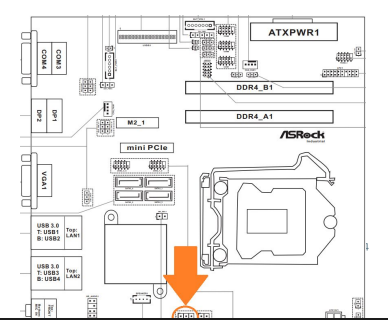 MK100-54
ASRock C246WSI Motherboard
How to Enable Auto Power On
Power on the unit and press the Del key to access the BIOS
Navigate to the Advanced tab
Open the Chipset Configuration menu
Change "Restore AC Power Loss" to [Power on]
Save changes and exit
Auto power on is now enabled

Troubleshooting
How to Clear CMOS
Locate the clear CMOS pads
Short the two metal halves with a flathead screwdriver for 30 seconds
The CMOS is now clear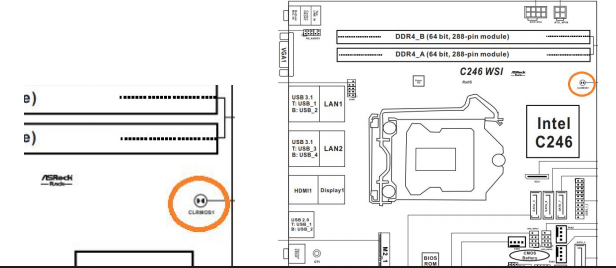 MK100B-10
Mitac PD11BI-P Motherboard
How to Enable Auto Power On
Power on the unit and press the Del key to access the BIOS
Navigate to the Chipset tab
Change "Restore AC Power Loss" to [Power on]
Save changes and exit
Auto power on is now enabled
Troubleshooting
How to Clear CMOS
Locate the clear CMOS jumper
Move the jumper over by 1 pin
Wait 30 seconds
Restore the jumper to its original position
The CMOS is now clear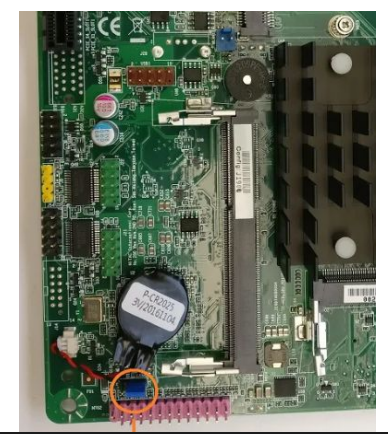 MK101B-30
Jetway NF9G-QM77 Motherboard
How to Enable Auto Power On
Power on the unit and press the Del key to access the BIOS
Navigate to the Chipset tab
Open the "PCH-IO Configuration" menu
Open the "High Precision Event Timer Configuration" menu
Change "Restore AC Power Loss" to [Power On]
Save changes and exit
Auto power on is now enabled
Troubleshooting
How to Clear CMOS
Locate the JBAT jumper
Move the jumper over by 1 pin
Wait 30 seconds
Restore the jumper to its original position
The CMOS is now clear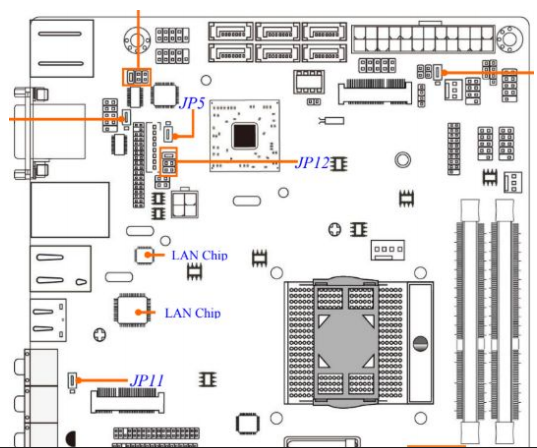 Mounting Options
The MK100/MK150 series can be installed with various mounting options, including: